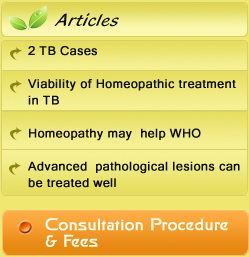 Classical homeopathy is the only one that can improve someone's performance even in the last stage. If you can come to us would be far better otherwise you can ask for the questionnaire. We can start treatment procedure on phone also.
Process of Consultation and fees

We are treating patients through classical homeopathy, which needs a lot of patient's study as a whole. We have to spend at least 1.5 hour to know your case. We have a large amount of material to cover and want to be able to answer all your questions.

Only after receiving the initial payments we will email you a specially designed questionnaire. or we will do case-taking (a most important step in homeopathic treatment) on phone. We may ask patient for video chatting if possible.

After receiving the filled in questionnaire (or after doing case-taking on phone) we will allow you to discuss about your treatment strategy, prognosis, duration of treatment, complications if any and approximate expenses, etc.

As soon as you pay the monthly charges (payment for one month of treatment) we dispatch the main medicines along some medicines in anticipation to deal with any trouble during treatment.

Our monthly treatment charges depend upon our concern and involvement in the treatment; this way treatment cost depends on the services provided by the doctors or the need of the patient, means if he or she is demanding more and more attention of his treating physician he will have to pay more.

Regular feedback about the health status of the patient makes us enable to deal with any adverse situation immediately and effectively.

After making our homeopathic repertorisation (diagnosis) we will demand for the monthly treatment charges and will send a kit of medicines by post. It is not merely the medicines but classical homeopathy is a management of a seriously ill patient. So, it is little costlier than ordinary (non-classical homeopathy).
According to timely updates we advise from the kit. It seems that patient is admitted at his home under our care.
Fee and Payment Options