Health is wealth so keep yourself healthy by improving the immune system. We can keep our immune system (body's defence system) up to date by so many means such as - by taking good nutrients; good and mild physical exercise (yoga); keeping activity of life in good routine; avoiding mental and physical stress etc. But when someone's immunity is influenced by some disease process then Homeopathic treatment can treat the patient in a better way even end stage kidney disease, kidney problems; chronic kidney or renal failure, up to 80% damaged kidneys, even blood urea and serum creatinine starts controlling just within days. When allopathy fails in treating the cases of terminal stage then Homeopathy helps a lot. Such as you can never give up supplementary food, similarly allopathic treatment for diabetes or hypertension would never make you free from the disease as well as its medicines; in the similar way Yoga is not a treatment but it is a life style that you have to be adopted for life long. While Homeopathy has no such limitations.


Though it is very difficult to treat a case of drug resistant TB or Chronic Kidney disease or a polycystic Kidney or a kidney tumor etc. with homeopathy yet we have treated many such cases successfully.

* There is always a possibility of limitation of results as in every other therapeutic system.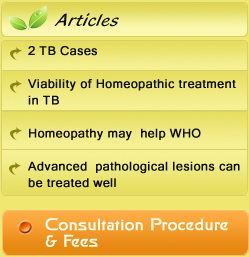 Creatinine up to 16 and raised Urea can be managed well in Homeopathy: This young boy came to homeopathic treatment after had taken Ayurvedic treatment for one and half year. He was bed ridden so he had to take homeopathic treatment without visiting to our centre. This video was made when he visited to us after getting much improvement just within 2 months.

Cystic kidney disease also improved by Dr KK Goyal's homeopathic treatment When yoga for 30 years failed to control the disease process, classical homeopathy rescued the kidney patient's trouble.
Kidney size of CKD patient may also improve in homeopathic treatment

This is her first visit in our clinic after taking treatment for 10 months remotely.
Now, her brother and mother are telling that how much they had benefited by this treatment.